Introduction
Mongolia responded quickly to the initial outbreak of COVID-19 in China this past January. The country issued its first public health warning about the new virus and asked citizens to wear masks on January 10; shut down schools throughout the country by January 24; and began shutting down its border with China (the longest land border in the world) on January 28 (NEMA (Mongolia), various dates; Montsame, January 27) These early measures appeared to have successfully controlled the coronavirus; as of November 10, Mongolia had reported a total of 374 COVID-19 cases and zero deaths due to the virus (Montsame, November 10).
The WHO has produced a documentary touting Mongolia's response efforts, and global experts have praised Mongolia's successful handling of the virus even as more developed countries suffered repeated waves of infections (WHO (Youtube), November 2; FSI Stanford, May 19). At the same time, Mongolia's pandemic control policies took a major toll on its economy, leading international organizations such as the Red Cross and the UN to declare their concerns about the impact of COVID-19 on Mongolia's future economic development (UN, July 25; Red Cross, September 28). Following approximately a decade of positive economic growth, Mongolia's GDP this year is set to fall by a staggering 9.7 percent (NSO (Mongolia), undated).
Early Impacts of COVID-19 on the Mongolian Economy
Amid nationwide lockdowns in January, Mongolian imports fell by 6.2 percent and exports by 24.4 percent, resulting in the country's first trade deficit since 2014. The country's economic slowdown was exacerbated in mid-February when Mongolia's State Emergency Commission moved to restrict coal exports, which account for a substantial portion of Mongolia's economy (The Ulaanbaatar Post, February 13). The mining sector had driven much of Mongolia's double digit growth in the early 2010s, and in 2019 accounted for 25 percent of the country's GDP and 90 percent of its total exports (Montsame, January 21).[1] China is by far Mongolia's largest trading partner, making up 64.4 percent of total foreign trade and 89.1 percent of its total export in 2019 (Montsame, January 24).Consequently, the relative health of the Mongolian economy is closely connected with mineral sales and its trade relationship with China, both of which were dealt severe blows this year.
China was Mongolia's top export and import partner in 2020, purchasing 68 percent of Mongolia's total exports and supplying 35 percent of total imports from January to July. Trade with China during this period fell by 10.7 percent compared with the year before. In total, Mongolia's total foreign trade fell by 16.7 percent during the first half of 2020 (Xinhua, August 13).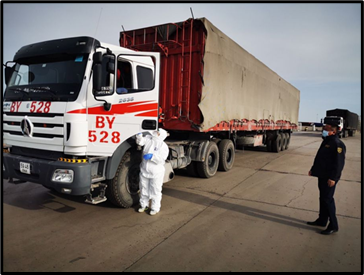 Coal
Because of COVID-19, coal exports were paused in mid-February and resumed in a limited capacity…


Read More: Mongolia's Economic Recovery from COVID-19 Dependent on China