Covid-19 cases are increasing across the United States and surging in the upper midwest, in what appears to be a third pandemic peak. In North Dakota, cases are increasing at a higher and faster rate per capita than in any other state throughout the pandemic so far.
Experts have long predicted cooler weather and pandemic fatigue would increase the spread of Covid-19 this fall. That now appears to be coming to pass, coupled with the longer and higher levels of death and disease the US has seen throughout the pandemic compared to peer countries.
"Everyone who knew anything about infectious disease and epidemiology predicted this six to eight months ago," said Dr Ezekiel Emanuel, vice-provost for global initiatives at the Perelman School of Medicine at the University of Pennsylvania.
"Yes, it will surge in the fall, and the reason it will surge is because we are moving indoors," said Emanuel. "Our surge is much higher than the surges in general," he said, because the US has started, "from a higher baseline".
Surges are especially pronounced in Montana, North Dakota and South Dakota, according to the Covid Tracking Project, but states from Wisconsin to Kentucky to Massachusetts are also seeing the curve bend upwards.
Last week, the Democratic governor of Wisconsin, Tony Evers, activated a field hospital on state fairgrounds to expand treatment capacity. Kentucky's Democratic governor, Andy Beshear, called increasing cases "grim" and said officials were now revisiting surge plans made last spring.
"We are now going back to our plans about capacity in hospitals, looking if we have to at hotel options and the use of state parks," Beshear said during a press briefing. "Ensuring that we have the operational plans to stand up the field hospital, if necessary."
In Massachusetts, Boston's mayor, Marty Walsh, said children would return to virtual learning until the city's positivity rate – the percentage of all Covid tests that come back positive – decreased for two weeks in a row.
But far and away North Dakota leads in increasing Covid-19. The state has the highest per-capita rate of Covid-19 infections anywhere in the nation, at 1,350 cases per 1 million residents. That is nearly double the rate of the second hardest-hit state, Wisconsin, where there are 805 new cases per 1 million residents.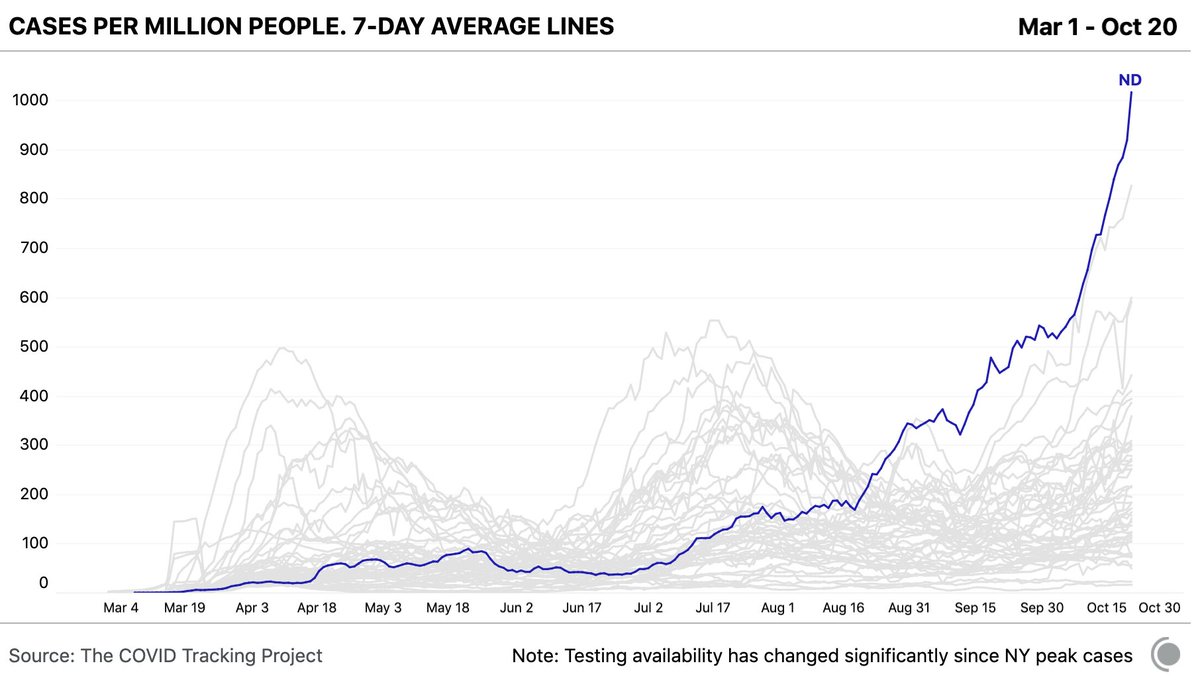 Nearly three weeks ago, the state loosened public health guidance, telling residents they no longer needed to quarantine for 14 days if they came into close contact with a person positive with Covid-19, as long as both were wearing masks.
"There's just no science to support that," said Dr Michael Osterholm, director of the Center for Infectious Disease Research and Policy at the University of Minnesota. Osterholm said that…


Read More: Covid cases increase across US as upper midwest sees rapid rise | World news